Welcome!
WARNING: This wiki contains full of spoilers. Read at your own risk!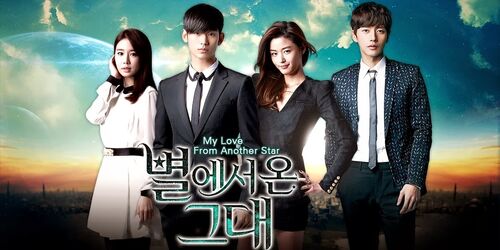 357 Edits, 21 Articles and 9 Files since March 2014
This is a wiki about the popular Korean drama series, My Love from Another Star, which is also known as (You Who Came from the Stars and My Love from the Star) that anyone can contribute to!
About
My Love from Another Star is a South Korean television series about an alien who landed on Earth 400 years ago in the Joseon Dynasty, who then falls in love with a top actress in the modern era. It aired on SBS from 18 December 2013 to 27 February 2014 on Wednesdays and Thursdays at 21:55 for 21 episodes, as the production company decided to extend the originally 20-episode series with one episode, due to demand from viewers.
이 사람에 기여할 수있는 별과 별의 내 사랑)에서 온 또한 당신으로 알려져 한국의 인기 드라마 시리즈, 또 다른 별에서 내 사랑에 대한 위키입니다!
这是一个关于韩国人气剧集,我的爱从另一颗恒星,它也被称为你是谁的星和我的爱从星)来了,任何人都可以向维基!
これは誰もがに貢献できることをスターとスターのマイ·ラヴ)から来たまたとして知られている韓国の人気ドラマシリーズ、もう一つのスターからの私の愛、についてWikiです!
Meet the Characters
Ad blocker interference detected!
Wikia is a free-to-use site that makes money from advertising. We have a modified experience for viewers using ad blockers

Wikia is not accessible if you've made further modifications. Remove the custom ad blocker rule(s) and the page will load as expected.